Distance Education
---
If an institution is offering postsecondary education through distance or correspondence education to students in a State in which it is not physically located or in which it is otherwise subject to State jurisdiction as determined by the State, the institution must meet any State requirements for it to be legally offering postsecondary distance or correspondence education in that State. An institution must be able to document to the Secretary the State's approval upon request.
Learn More about Authorization
State Authorization Reciprocity Agreement (SARA)
Effective March 17, 2016, the Georgia Nonpublic Postsecondary Education Commission (GNPEC) approved Emory University to participate in the National Council for State Authorization Reciprocity Agreements (NC-SARA). A "State authorization reciprocity agreement" is an agreement between two or more States that authorizes an institution located and legally authorized in a State covered by the agreement to provide postsecondary education through distance education or correspondence courses to students in other States covered by the agreement. Participation in NC-SARA is voluntary and requires an annual renewal. SARA authorizes Institutions that are members to provide online education to students from all SARA member states.
View approved states and institutions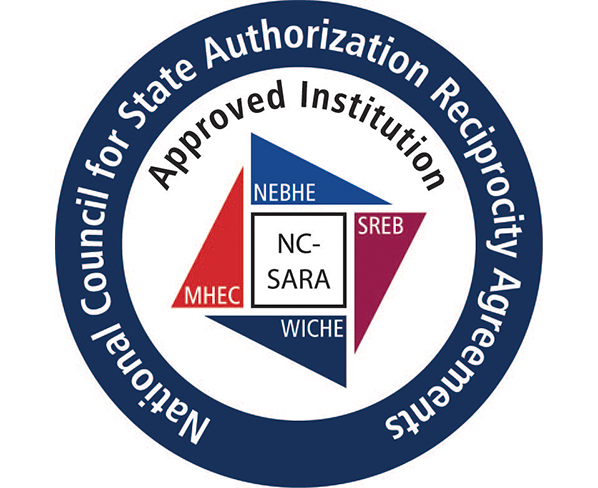 The following programs are not online programs. However, they have on-the-ground experiences, i.e. (practicums, internships, residencies, clinical rotations, etc.), that are conducted out-of-state and, therefore, are subject to the Department of Education regulations regarding state authorization.
Doctor of Physical Therapy (DPT)* School of Medicine 
Physician Assistant (PA)* School of Medicine
Anesthesiology Assistant (AA)* School of Medicine
Programs that lead to professional licensure are not covered under SARA and may have additional state requirements.
Status of Non-SARA States and Territories
States
California – Emory University does not have a physical presence in the State of California and may offer distance/online education programs and courses to California residents.
Territories
American Samoa – Emory University is not pursing state authorization. Students from American Samoa are not eligible for Emory University distance education.
Guam – Emory University is not pursing state authorization. Students from Guam are not eligible for Emory University distance education.
N. Marianas Islands – Emory University is not pursing state authorization. Students from N. Marianas Islands are not eligible for Emory University distance education.
Puerto Rico – Recognizes Emory University as an exempt higher education institution offering distance academic programs and distance religious programs from outside the licensing jurisdiction of Puerto Rico to students in the Island, 2015-2018
Virgin Islands – Emory University is not pursing state authorization. . Students from the Virgin Islands are not eligible for Emory University distance education.
Professional Licensure Disclosure Statement
Emory University's academic programs that lead to licensure prepare students to sit for exams in the State of Georgia or for National exams. In compliance with the §668.50(b)(7) Professional Licensure/Certification (PLC) education requirements, if you are a student planning to pursue a degree in one of Emory's programs that leads to professional licensure. It is your responsibility to know whether the course or program meets requirements for professional licensure in your chosen state, territory, or country. Licensing regulations differ from state to state and it is the prospective and enrolled student's responsibility to understand current state regulations or special requirements regarding the selected online program and licensure.
To assist students and applicants with researching the licensure requirements of their program(s), Emory is providing links to the licensing authorities of each state. Please review the information on these sites carefully. Note that Emory compiled this information in March, 2019 and some information may have changed since that time.
Complaint Process
The Department of Education requires Emory University to provide contact information for filing complaints with the University, its accrediting agency, and the appropriate state agency charged with handling complaints to out-of-state students in states where the student resides.
Students who desire to resolve a complaint should follow Emory University student complaint policy. 
If a complaint cannot be resolved by following the Emory University procedures, a student may file a complaint with the following agencies:
As a SARA institution, a complaint can be filed with the Georgia Nonpublic Postsecondary Commission (GNPEC) by completing the SARA Online Student Complaint Form. 
The Southern Association of Colleges and Schools Commission on Colleges (SACSCOC), Emory University's accrediting body. 
If a complaint cannot be resolved through these methods, you may be able to

 

file a complaint in your state. Complaint resolution by state for out-of-state students may be submitted to the appropriate authority in your state of residence. 
Withdrawal and Refunds
A student may completely withdraw from Emory with permission from the appropriate school dean. Unofficial withdrawal results in 100 percent forfeiture of tuition. When officially withdrawing, the student may be eligible for a refund of payments depending upon the date of withdrawal. Refunds are only processed for complete withdrawal. Financial aid awards that pay part or all of the student charges are prorated accordingly. Refunds for federal (Title IV) aid recipients will be prorated in accordance with federal regulations. No refunds are issued until all semester charges are paid in full. See the Student Financial Services web page for the Tuition Adjustment Schedule
Additional Information
Submit your inquiries pertaining to online education to
 vacompliance@emory.edu.